My Sister Kira
December 17

-

December 18

$5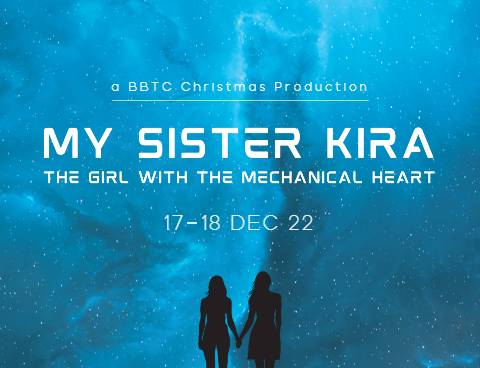 Peter Lumen invented his first mechanical heart to save his daughter's life. Since then, many have been saved through his inventions. However, a disastrous event puts the lives of all he has helped at stake. Now, Peter and his family are in a race against time to save as many of them as possible.
---
Date & Time :
17th Dec  Saturday   2pm   &   7.30pm
18th Dec  Sunday     11am   &   4pm
---
Ticket Sales Information:
Tickets are on sale at $5 per admission.
Where can I buy them?
Weekends (19 Nov to 11 Dec) at Hallelujah Quadrant:
Saturday, 4pm to 5pm and after Service
Sunday, after 1st and 2nd Services
Weekdays (Till 16 Dec) at the BBTC General Office:
Monday to Friday, 9am to 5pm
For enquiries, please call 6645 0700 during office hours.
---
There will be concurrent children's programme during the two shows on 18 Dec Sun.
Children's programme:
The Great Christmas Feast
18th December Sunday only
11am-1pm & 4pm-6pm
Venue: BBTC Hall 2 (level 2)
Will they get through this great Christmas feast as one family?
Join us at Kids For Christ to discover the whole story.
Bring your friends for more games, carolling, and prizes!
Registration link for the Christmas Children's Programme.
bit.ly/kfcprog2022
anemptytextlline

Peter

anemptytextlline

The Dad With A Daring Dream

anemptytextlline

Kira

anemptytextlline

The Girl With The Mechanical Heart

anemptytextlline

Mona

anemptytextlline

The Spunky Sister

anemptytextlline

Charlie

anemptytextlline

The Charming Joker

anemptytextlline

Reuben

anemptytextlline

The Revolutionary