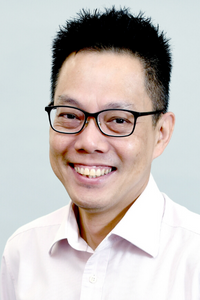 Pastor in Charge
Pastor Andrew Tan
Ps Andrew Tan is a certified counsellor, father of three, and also a pastor in Bethesda (Bedok-Tampines) Church with over 10 years of experience. He heads the church's Family Ministry and also provides parenting training for parents.
Children are a heritage from the LORD, offspring a reward from him.

Psalm 127:3
The saying goes that it takes a village to raise a child and BBTC is here to journey with you as your "village" to raise this family God has gifted you. As parents, the responsibilities bestowed upon you is no small matter and we want to partner you in raising your child to love and seek God, to experience a full life in Jesus Christ.
Deuteronomy 6:5-7 tells us
" You shall love the LORD your God with all your heart and with all your soul and with all your might. And these words that I command you today shall be on your heart. You shall teach them diligently to your children, and shall talk of them when you sit in your house, and when you walk by the way, and when you lie down, and when you rise. You shall bind them as a sign on your hand, and they shall be as frontlets between your eyes. You shall write them on the doorposts of your house and on your gates."
This passage teaches us that our first duty as parents is to love God and the second, to teach our children to do the same. In the midst of changing diapers, feeding and playing, let us not forget this is our most important duty as parents to our little ones. As a church that believes in the value of family, we have these resources and program lined up to support you in your journey of parenting.
Pre-parenting preparatory sessions
Baby Dedication
Bonding activities with children
Tribe-based family outings
Mothers' support group
Fathers' mentoring group
For more information of the programs and resources for the Family, email Ps Andrew at [email protected] or Ps Felicia at [email protected]. You can also receive updates of events and resources at our Parents Facebook Group.