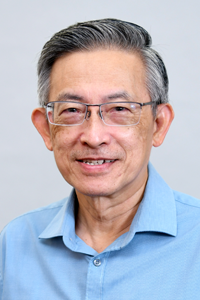 Pastor in Charge
Pastor Jason Teo
Ps Jason joined the BBTC pastoral team in 2000. He is the Cell Pastor for the tribes of Antioch Gatekeepers and Vineyard. Ps Jason also oversees the Prayer Ministry, Filipino Ministry, Hokkien Service and runs equipping courses in the area of prayer and prophetic gifts of the Holy Spirit. Ps Jason is also the author for the book 'Breaking Forth with Health'.
It has been said that the most powerful posture a Christian can adopt is that on bended knees. Not many of us can preach, teach or shepherd a group but all of us are called to pray and be a blessing to the body of Christ.
With your prayers, you can make a difference to the life of the church.
The Prayer Ministry has several platforms where small groups can gather and pray.
House of Prayer (HOP)
HOP groups are led by one of our pastoral staff and are held in church every day during weekdays. The HOP is especially a good platform of prayer for homemakers and others with flexible working hours. Sessions are about an hour each. Members pray for church activities, members and other concerns. It's a time of sowing prayers intentionally.
Corporate Worship & Intercession (W&I)
This is held every first Friday of the month, from 8pm-10pm. At W&I, worship and prayer are interweaved and members pray specifically for corporate events, programmes and ministries. If you are looking to pick up the heartbeat of the church or to grow in prayer, this is a good platform. Activities don't make strong churches but prayers do!
Breakthrough House Online
Breakthrough House is currently held online due to Covid. We are open every Saturday (6.30pm – 7.pm) and Sunday (10am – 10.30am) on Zoom. Our Ministers are ready to minister to all who need prayer, healing, breakthrough, or a word from the Lord, individually in the various Zoom Breakout Rooms.
Simply click the link below during our opening hours.
Breakthrough House Online: https://bit.ly/breakthroughhouse
Meeting ID: 836 3000 6466
Praying for Community Transformation
This takes place every second Saturday, 10am – 11am. Prayers are focused and geared specifically for the community. For those interested, you may write in to [email protected] for more information.
Praying from Home or Workplace
For those who are unable to attend any prayer platform but wish to pray at home or workplace, they may indicate their interest by writing to adm[email protected]. Prayer pointers will be sent to them via emails.
Prayer Groups
If you know of people who are passionate about prayer, why not form a small group to meet at a specified location to pray? Register with the church and prayer pointers will be sent to you.
24-hr Prayer Chain
Every month, a tribe will anchor a day in 24-hr prayer. This is a great platform where unity is played out. For interest and participation, you may write in to [email protected].
For more information, please contact Pastor Jason Teo at 66450700.