REGISTRATION FOR ADMISSION IN 2024
| | |
| --- | --- |
| Level | Born |
| Pre-Nursery | between 1 January 2021 and 30 June 2021 (both dates inclusive) |
| Nursery | in 2020 |
| Kindergarten 1 | in 2019 |
| Kindergarten 2 | in 2018 |
For enquiries, please call 6645 0740 or email us at [email protected].
Mission
To build in every child godly character and nurture the love for learning in partnership with parents.
Vision
BBTK strives to be the preferred kindergarten in our community where children enjoy learning in a loving environment.
Core Values
BBTK is in
Partnership with parents in providing a healthy growing environment where we
Love God, family & friends
Enjoy teaching, learning & building relationships
Appreciate our differences
Share our values, experiences, knowledge
Encourage one another to face challenges without giving up
Train up a child in the way he should go: and when he is old, he will not depart from it. Proverbs 22:6
Established in 1987, BBTK is committed to providing quality curriculum to nurture children's holistic development. This commitment extends to collaboration with parents to enhance children's learning. Our goal is to provide a safe, nurturing and disciplined environment where children learn to explore through play, problem solving and discover independently through activities that capture their interests.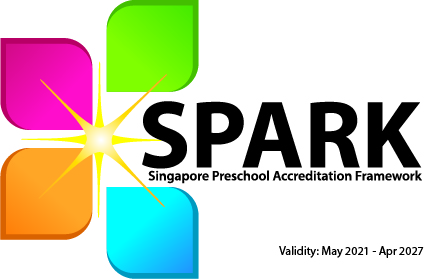 BBTK has attained SPARK certification.
Our Classes
Pre-Nursery
Nursery
Kindergarten 1
Kindergarten 2
Our Curriculum
Language and Literacy
English Speech & Drama (K1 & K2)
S.T.E.M. Programme (K1 & K2)
Chinese Language
Reading Programme For Both Languages
Phonics
Numeracy
Music & Movement
Motor Skills Development
Social and Emotional Development
Discovery of the World
Purposeful Play
Aesthetic and Creative Expression
Stories / Bible Stories
News / Current Issues
Our Sessions
1ST SESSION
Pre-Nursery & Nursery (3 hours)
8am-11am
K1 & K2 (4 hours)
8am-12pm
2ND SESSION
Pre-Nursery & Nursery (3 hours)
11.15am-2.15pm
K1 & K2 (4 hours)
11.15am-3.15pm
For enquiries or registration, you may contact us at 6645 0740 or email us at [email protected].
Teachers' Day Celebration 2023
Start Small Dream Big 2022
Start Small Dream Big 2021
Start Small Dream Big 2020
TESTIMONIALS FROM OUR PARENTS
Mrs Yeo, parent of Vanna and Raphael
I am really glad to send my both kids to BBTK, the principal, teachers and staff have been very caring and nurturing. They have been very patient with my kids whenever we meet with any challenges or difficulties. Everyone at BBTK will not hesitate to go the extra mile should the need arises. The strong partnership that we have with the school make learning so enjoyable for my children.
BBTK has also been providing the children with a holistic learning environment with programs to bring out the best in them. Most importantly, it is a school that puts God first, whenever the teachers have the opportunity, they will be sharing with the children about their testimony and encounter with God. Being able to worship God in school is such a privilege for both my kids.
Thankful to the principal for her leadership – for making many wise decisions in terms of curriculum and school management, with the well-being of the students in mind. She has gone the extra mile to set aside time to hold sessions to equip parents with tools for fun learning at home. She has also extended her care and concern for all students and their families.
Thank you BBTK for imparting to the next generation.
Mr & Mrs Tay, parents of Abigail and Faith
Since 18 months old, Abigail has been to 3 preschools before we settled for BBTK and saw big changes after the switch!
She would come home and share with us her many joyous moments in school. She is very much influenced by the like-minded Christian teachers and principal who carry out the lessons in a very different vibe – the way they love the children, we can feel God's love. The warmth in the teachers, the way they interact with children, we can really feel they are genuinely interested in nurturing the children.
As Christian parents, we disciple our children at home, spending time worship, pray, reading and teaching them the bible. We can equip the children at home, but to practice what they have learn, the school plays a crucial part. Recently, we met one of Abigail's classmate parent who share with us how Abby has been kind to her child in an incident. That really warm our hearts to hear the compliment from other parent.
BBTK has been coming alongside with us in the journey of training our children, to impact their heart and mind on the things of God. Abigail would come home and share on the Bible stories which pastor Evelyn shared with her – not just the usual "David and Goliath story", but other in-depth bible stories which brings out the important godly values in each story.
Thank you, teachers and principal of BBTK, we really appreciate all the love you have shown to Abigail in her preschool journey.
Mrs Liong, parent of Lleyton
BBTK, a school with nurturing principal and teachers who genuinely care for the children under their charge. It has been a delightful 3 years journey for Lleyton who has not only grown in wisdom, but also most importantly in character. BBTK inculcate good moral values in the children through bible stories and the like. The teachers are always encouraging and taught the children to always give their best.
It has been a pleasure to be in partnership with BBTK throughout my child's preschool journey. I wish for BBTK to continue in their mission to provide a biblical nurturing environment where preschoolers can learn and grow.
Mrs Loy, mother of Jamie Anne Loy
I am glad that I had chosen BBTK for my daughter in her early years of schooling. My daughter had an enriching learning experience because of the patience and guidance from all the teachers who had taught her. Through the motherly and nurturing ways of the teachers, she has become a more confident, compassionate and independent child. All the teachers and principal are committed and dedicated towards your charges. You have ensured that each and every child is able to reach his /her fullest potential to prepare them for the next milestone. Her faith in God has also been lovingly embedded in her heart through the prayers, songs and bible stories. A special note of appreciation to the principal for not only being a great and effective school leader but also a friend who had helped us through a difficult period in our lives. Thank you for being there for my daughter and family when we were going through the loss of a loved one. Your prayers, concern and friendship are something that we will always remember in our hearts. May God bless each and every staff at BBTK.

Mrs Teo, mother of Teo Zhe Yu
BBTK is a wonderful kindergarten with very personable, dedicated and caring staff. Children are treated, without exception, with kindness and respect, each child is made to feel so valued and important. Special thanks to the principal for making this kindergarten an amazing place for the children to bloom. We really appreciate your professionalism.
Mdm Ike, mother of Hannah Chloe and Helena Celine
We would like to express sincere gratitude to the principal, teachers and BBTK staff for all the patience, hard work, and dedication; Chloe always look forward for the bible stories and Celine enjoys the art and craft lessons.
Thank you for making it easy and fun for Chloe and Celine to learn not only vocabulary and numeracy but also about Jesus.
Mrs Cheong, mother of Jonathan and Hallie
Thank you BBTK for being part of our lives for the last 6 years, for both our children, Hallie and Jonathan. BBTK has cared for both our children and our family. We are so blessed to have come through your doors. Our children have experienced the commitment and dedication of all their teachers and have grown in their character and person. They are confident and able to grow in their strengths and abilities. As parents, we have also benefitted in the close relationship the school has forged with us coming alongside us in times of need. Thank you BBTK and may you continue to do well and serve the next cohort of children and their families coming in.
Mr and Mrs Prasad, parents of Advik
My child has blossomed into a real delightful little boy because of your guidance and encouragement. His face lights up when it's time to drop him off at school, and he only has the best kinds of stories whenever it's time to go home. BBTK truly is the best thing that happened to him! Thank you, Mrs Tan and Ms Teo!
Mrs Chow, parent of Anthony
Thank you, Mdm Zheng, for your tender care for Anthony and for supporting him in his first experience of school. He really enjoys coming and talks about how you comfort him when he cries. Thank you for helping him to adjust to the new environment and to grow in confidence!
Mrs Deepshikha Roy, parent of Debarati
Thank you, Mdm Tay, for your hard work & perseverance to ignite the imagination of our child and inculcate in her the meaning of 'learning'. As parents, we sometimes fail to let Debarati be independent but as a mentor and teacher, you have always encouraged her to do so. Thank you for all the virtues that you have imbibed in our child so far. Thank you for the awesome effort.
Thank you, Mdm Foo, for helping Debarati to explore and learn a new language in a foreign land. Your love and dedication towards her has encouraged her to speak and sing chinese poems and songs. We cherish each moment of her development in the chinese language. Thank You Mrs Tan, your love towards our child is heartfelt and we deeply appreciate you for it. We have confidence that our child is in the best school and among the best teachers. Thank you for always going that 'Extra Mile'.
Mdm Katrina, parent of Gavin
I don't regret enrolling my son in BBTK. Not only he is getting the good education but most importantly, he is learning about Jesus. He has become the kind of child I want him to be, one who loves Jesus, has a good set of christian values, cheerful and smart kid. I don't think I will be this assured and comfortable to send my child to school if he is not in BBTK. Thank you for opening your doors to Gavin.
Mdm Devika, parent of Diya
BBTK is a second home for Diya. She looks forward to coming to school and I am always thankful to the love, care and guidance that have been shown to my child. She loves her school and what more proof does anyone need other than the love of a child to know how good the school is. Thank you everyone (teachers, principal, helpers and school bus driver) who takes such good care of my child with love and patience. Thank you for being part of my child's learning journey to be a compassionate, responsible and independent child.
Mrs Alice Palattao, parent of Chester
Dear Mrs Chels Tan, BBTK is very lucky to have you as the leader, who's professional in the education field and joyfully go out of your way to share up-to-date teaching/parenting skills with us regardless of your busy schedule, but also always being passionate with a kind, big heart. Personally, I'd like to thank you for being so accepting and open-minded in such a genuine way to us foreigners/outsiders and built up a healthy inclusive environment for all parents at school through activities and gathering. Grateful to see all these positive energy and changes you have brought along.