Mission
To build in every child godly character and nurture the love for learning in partnership with parents.
Vision
BBTK strives to be the preferred kindergarten in our community where children enjoy learning in a loving environment.
Core Values
BBTK is in
Partnership with parents in providing a healthy growing environment where we
Love God, family & friends
Enjoy teaching, learning & building relationships
Appreciate our differences
Share our values, experiences, knowledge
Encourage one another to face challenges without giving up
Established in 1987, BBTK is committed to providing quality curriculum to nurture children's holistic development. This commitment extends to collaboration with parents to enhance children's learning. Our goal is to provide a safe, nurturing and disciplined environment where children learn to explore through play, problem solving and discover independently through activities that capture their interests.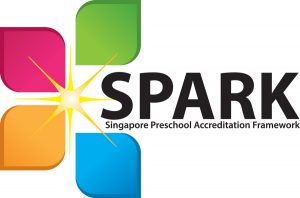 BBTK has attained SPARK certification.
Our Classes
Pre-Nursery
Nursery
Kinder 1
Kinder 2
Our Curriculum
Language and Literacy
Chinese Language
Numeracy Skills
Music & Movement
Motor Skills Development
Social and Emotional Development
Discovery of the World
Reading Programme for both languages
Phonics
Purposeful Play
Aesthetic and Creative Expression
Stories / Bible Stories
News / Current Issues
Our Sessions
1st session : 8.15am – 11.15am
2nd session : 11.15am – 2.15pm
For enquiries or registration, you may contact us at 6645 0740 or email us at kindyadmin@bbtk.com.sg.
Dear Parents,
Our mission is to build in every child godly character and nurture their love for learning in partnership with you. Our school is geared towards training children in the ways of the Lord so that when they are old they will not depart from it (Proverbs 22:6).
Lessons are designed and planned with the aim of maximising your child's growth through fun activities and developmentally appropriate practices. Our program and resources, which are academically appropriate, meet and/or exceed the requirements presented in the Kindergarten Curriculum Guide developed by the Ministry of Education.
Your child's progress will be monitored throughout the year and the report will be submitted to you twice a year. We are pleased to arrange a Parent-Teacher Meeting twice a year.
Thank you for giving BBTK the honour and privilege of being a part of your child's life, growth and development. We appreciate the joyful task of raising your children in partnership with you.
Yours faithfully,
Mrs Grace Seah
Principal