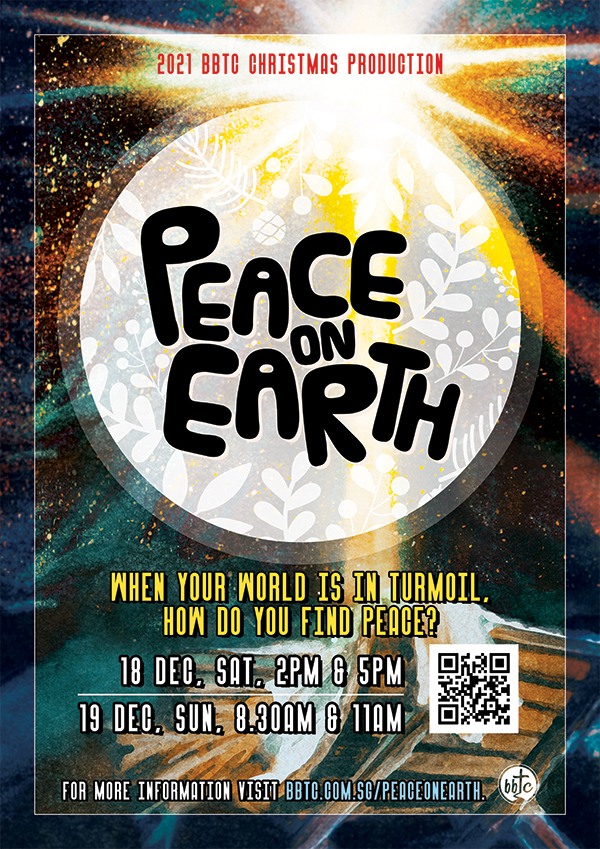 Peace On Earth
BBTC Sanctuary, Level 3
Dec 18, 2pm & 5pm 
Dec 19, 8.30am & 11am
SYNOPSIS
We tell the story of a father and daughter on Christmas eve. It's revealed that, through the course of her work, mum has gone missing. As the little girl grapples with the news, dad likens their current tragedy to the challenges Mary and Joseph had to face during the very first Christmas.
TICKETING
TICKETS ARE FREE!
Grab yours now at: https://www.eventbrite.sg/e/214524397247. Each attendee must sign up separately
• To maximise capacity, this event is for vaccinated attendees only.
• However, if you are unvaccinated, you can attend with an authorized Pre-Event Test and BBTC will reimburse the full cost of the test!
• We will have an onsite FREE pre-event test station only on Saturday Dec 18. For attendees on Sunday Dec 19, we will fully reimburse the PET cost of any unvaccinated attendees (just bring along the receipt).
Writer and Director (Actors)
Natalie Goh
Cast
Samuel Goh, Janneth Cheong, Shaun Kwan, Avelyn Kwan, Rose Ng
Singers
Joel Koh, Huang Hong Sheng, Theodora Toh, Yvette Ho, Choir (Recorded)
Evangelist
Elder Lok Vi Ming
Video & Live Stream
Nathanael Chan, Sharonna Wai, David Lawrence Lim, Alvin Lim, Edwin Soo, Jonathan Sim, Rex Xu
Worship and Music Director & Sound
Pastor Jessie Tan, Lynnette Goh
Music
Nehemiah Chee
Sound
Gerald Ng, Low Chew Kim
Lighting Designers
Matthew Han, Huang Mu'en (Illuminate Productions)
Lights & Visuals
Clarissa Neo, Justine Tan, Cheryl Ng, Lim Hui Jie
Costume
Kimberly Wee
Makeup
Brenda Ting
Marketing
Charlotte Xu
Sets Designer
Joshua Koh
Stage Manager
Abigail Lee
Stage Crew
Lai En Han, Beth Ang, Ken Loo
Recruitment
Kimberly Wee, Nehemiah Chee
Glory to God in the highest, and on earth peace, goodwill toward men!

Luke 2:14
We invite you to join us at our Christmas Services.
ENGLISH
Venue: Sanctuary
25 Dec, Sat 
8.30am & 11am (Live stream)
26 Dec, Sun
8.30am & 11am (Live stream)
Baptism Service
25 Dec, 2pm
KIDS FOR CHRIST
Venue: Basement
25 Dec, Sat 
8.30am & 11am
26 Dec, Sun
8.30am & 11am
MANDARIN
Venue: Hall 1
25 Dec, Sat 
10am-11.30am (Live stream)
26 Dec, Sun
8.30am & 11am (Live stream)
Baptism Service
25 Dec, Sat, 10am
HOKKIEN
Venue: Hall 1
25 Dec, Sat 
7pm (Live stream)
26 Dec, Sun
2pm (on Zoom only)
28 Dec, Tues
11am
FILIPINO
Venue: Chapel
19 Dec, Sun 
1.30-3.30pm (Live stream)
26 Dec, Sun
1.30-3.30pm (Thanksgiving Service)
INDONESIAN
Venue: Zoom
26 Dec, Sun 
11am-12pm
Zoom: bit.ly/bbtcindo26dec
Meeting ID: 988 4238 4384
Passcode: 369933 
Year End Evangelistic Outreach
The Christmas season is a great time to plant seeds with the lost and to encourage Christians to be bold for the Lord in the coming days. Let us be a channel of His love and the life-changing, hope-giving message of the gospel of Jesus Christ.
See what Cell Groups are doing!
Submit your outreach event details!